Someone Comes to Town, Someone Leaves Town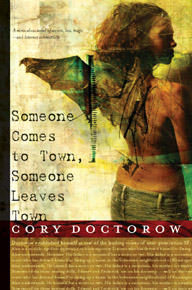 Cory Doctorow's new book has finally hit the shelves and is the first book in the Sci-Fi channel's book club. Cory is one of the writers of BoingBoing and his first two books "Down and Out in the Magic Kingdom" and "Eastern Standard Tribe" were two of the books that got me back into pleasure reading. I thought I recalled him saying something on BoingBoing a long time ago about this new book veering into fantasy, which would turn me off, but the synopsis doesn't sound like middle earthy stuff, so I'll be checking this out soon as I finish Everything Bad is Good for You.

"It's only natural that Alan, the broadminded hero of Doctorow's fresh, unconventional SF novel, is willing to help everybody he meets. After all, he's the product of a mixed marriage (his father is a mountain and his mother is a washing machine), so he knows how much being an outcast can hurt. Alan tries desperately to behave like a human being--or at least like his idealized version of one. He joins a cyber-anarchist's plot to spread a free wireless Internet through Toronto at the same time he agrees to protect his youngest brothers (members of a set of Russian nesting dolls) from their dead brother who's now resurrected and bent on revenge."
Following the link above takes you to a blog about the book and links to the free etext version and what you might find interesting is his discussion of creative commons liscensing and why he gives the book away in many situations.